How to Retire Early and Travel the World… Even on A Social Security Check Alone
A month-long stay in a Caribbean villa…a winter
spent in the Mediterranean sun…gourmet dinners out…

your own housekeeper and gardener…
You don't need to be wealthy to enjoy "rich man" luxuries in retirement…you just need to know the shortcuts.
If you like to travel, my guess is that, stuck at home, you're starting to think about where you'll go when you're sprung. That's smart—because planes will fly again. And when they do, I'd like to think you'll be on one to someplace wonderful.
Let me ask you a question: If you could afford the retirement of your dreams…what would your life look like?
Maybe you'd spend a few weeks (or a few months) a year in a sunny beach town…sailing, surfing, enjoying the warm ocean…
Or maybe you'd take a European escape each summer…dine with a view of the Eiffel Tower, grab a Guinness in Dublin, watch the sun set on white-washed Santorini in Greece…
Perhaps in your dream retirement, you'd have a second home somewhere it doesn't snow and embrace an "endless summer" lifestyle…
Or maybe you've always dreamed of traveling the world…watching the sun rise on the ruins at Angkor Wat in Cambodia…seeing the wildlife in the Galapagos Islands…playing golf on Portugal's Algarve…
Whatever your dream retirement looks like—keep that front-and-center in your mind's eye. Because I'd like to show you how you can make it your reality…on much less than you imagine.
You see, you don't have to be wealthy and famous to live a high-flying international life…to enjoy a retirement that's rich with experiences you've always wanted to have…to live in comfort and not worry about whether you'll outlive your nest egg…
You just need to know the shortcuts.
When you do, you can live and travel like a king…and do it on a working-class budget.
Let me show you…
How to Spend
a Week in Europe—No Charge
The truth is, all sorts of amazing shortcuts exist that can allow you to travel better than you do now but spend way, way less than you assume you have to.
I'm talking about little-known ways you can enjoy a genuinely international life…no skimping required. This is high-end travel without the high-end price tag…shortcuts that lead directly to "the good life."
Take Marsha. Last year she spent a week in the Spanish countryside—without handing over a single dollar.
"I strolled narrow cobblestone streets in a quaint medieval village," she says. "I learned to drink red wine from a bota (a goat-skin wine bag) and sampled renowned jamón bellota in a rustic bodega. As I savored the succulent, cured meat, I forged lasting friendships with fun, friendly Spanish people…and living that good life didn't cost me a dime."
All she had to do in exchange was speak English with local conversation groups.
You could do the very same thing…and not just in Spain. This vacation shortcut is yours to capitalize on in Italy, Germany, and Eastern Europe, too…
In Italy, you could stay in an 11-century abbey in Tuscany, a medieval castle in Piedmont, or a Mediterranean estate in Puglia…free…
In Germany, you have options in Bavaria and near Frankfurt. And one-third of the available spots are reserved for couples and for friends traveling together.
Here's another useful shortcut you should know about…
Stay in Luxury—for as Little as
10% of What the Guy in the Next Room Is Paying
You may not realize it, but—especially at high-end hotels and resorts around the world—there's a lot of wiggle room when it comes to what you have to pay.
Now, if you simply go to a fancy property's website and book your stay—the way most folks would—you'll pay top dollar.
But that is not what the cunning insiders who know the shortcuts do.
It's possible to save 40%…60%…even a full 90% off the regular price and have the very same luxury experience the guy in the next room is having. Only he's paying two, three, five, maybe ten times more.
Consider, just as an example, that you could stay at The Laslett , a decidedly upscale boutique hotel in Notting Hill, London, for $349 a night by booking a room on their website.
Or, you could use the smart shortcut I'd like to show you and pay as little as $79 a night for the very same luxury room.
That's less than half what you'd typically pay at a Courtyard Marriott in Omaha .
Yet you'd be smack in the middle of one of London's most iconic and sought-after neighborhoods—a spot known for its pastel Victorian townhouses, chic boutiques, antique shops, bookstores, and the famous Portobello Road Market.
The hotel is set in five adjacent townhomes, impeccably restored and blending seamlessly the elegant walls with contemporary flair—for $79 a night.
This is a shortcut that is incredibly reliable. And it serves up "rich man living" for pennies on the dollar, every single time.
You can use this shortcut to book high-end lodging all over the world…and pay a small fraction of what you'd expect it to cost.
My colleague Suzan has done it in several countries, including Mexico, where she's used this shortcut more than once to arrange ritzy accommodation for beach vacations.
"I've booked upscale hotel and resort stays in places like Cozumel (for $16 per night) and Puerto Vallarta (for $7 per night)," she says. "I paid just $1 for a seven-night stay at a luxurious beachfront resort in Nuevo Vallarta and then again at another one in Cancun."
This shortcut allowed her to book opulent resort stays for a week each time—for $1. A single dollar for seven nights in a luxury resort on the beach.
Right now, in the midst of this crazy pandemic—this shortcut really works. You can arrange for incredible, high-end travel experiences for pennies on the dollar—and take advantage of them in late 2020 or even into 2021.
That's what I mean when I talk about shortcuts that can change the way you experience your retirement…and hand you the perks of a wealthy man's lifestyle, even on a waitress's budget.
Shortcuts to a More International
Life, No Fat 401K Needed
I'll say it again: You don't have to be wealthy and well-connected to enjoy life as if you were.
You don't need to have a massive nest egg saved up to live a fun, adventure-filled, international retirement.
You simply need to know the shortcuts. And that's what I'd like to show you.
Because when you know those insider tricks, you can do things you may not have even realized are possible, like…
Travel the world in high style for as little as $42 a day…overnights, food, and entertainment included. (Add it up, and that comes to well less than $20,000 a year. At home, you'd be scraping by on that modest budget, but with this shortcut, you can live large.)
Winter over with your spouse on a sunny Caribbean island—with the ocean a few blocks away—and do it for $2,500 a month or less, all in, including your housing, meals out, and entertainment.
Trim your travel costs to almost nothing by staying for free in all kinds of upscale retreats—could be a stately brick home in the U.K….a private beachside apartment with balconies in Australia…a blue-shuttered farmhouse in the south of France…
Cruise the world for free and have the time of your life—cocktails on board, visits to exotic ports, shows to entertain you. There are at least four legitimate ways to arrange no-cost cruises, and you can take advantage of them again and again…
Deduct your travel expenses from your taxes…and even get paid to travel…
Pick up Saks Fifth Avenue-quality clothing you can have tailored to your own fit and taste—suits, shirts, skirts, dresses—for a small fraction of what it would cost to buy them off the rack at home. It's like couture-quality shopping at Target prices…
Spend less to cross the Atlantic on Cunard's legendary Queen Mary 2 than you would to buy an economy seat on a round-trip flight from New York to London—and enjoy seven days of pampering poolside, gourmet cuisine, theater, lectures, and more—on what is really an elegant, floating five-star hotel.
Revamp Your Retirement
My point is: You don't need to have a well-padded retirement account to do any of those things…you simply need to know how to arrange them…
My name is Jackie Flynn, and the organization I lead is well-respected for the ground-breaking research and work we've done over the last four decades on the subject of retirement.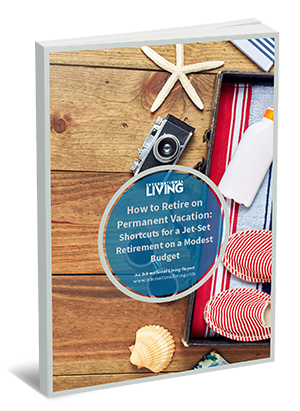 Publications like the New York Times, the Wall Street Journal, AARP, and Forbes1. contact us when they need an expert opinion about interesting and alternative solutions for stretching retirement dollars and for getting the most enjoyment out of your "golden years."
That's our expertise. And I'd like to share it with you.
My team has collected all our best shortcuts—the how-to secrets behind those I've just mentioned here—and more—in a special report called How to Retire on Permanent Vacation: Shortcuts for a Jet-Set Retirement on a Modest Budget.
I'm giving it away as a special bonus today. (And I'll explain how you get it in just a moment.)
But first, I want to give you a little context for what we're up to…
You know, these days, most people believe that a worry-free, adventure-filled retirement is something only the very wealthy can afford.
And that's understandable. After all, the retirement story you get from the news is pretty depressing. Traditional pensions are a thing of the past. Almost nobody has saved enough to support a comfortable, long-term retirement.
The advice the "experts" dish out is always: work longer, sock away more, and settle for less in your golden years. There's a certain "hope-for-the-best" mentality that sets in. And I expect even more people will feel that way in the wake of this pandemic.
But here's the thing: You don't have to settle for less and merely hope for the best. That isn't the whole story about retirement. Not even close.
You have options—good options—nobody tells you about.
Options that can allow you to expand your lifestyle in retirement and live a richer, more international, more exciting, more rewarding life…without saving another dime.
Consider this powerful shortcut, for instance…
A Glamorous Retirement on
a Decidedly Middle-Class Budget
Emma and her husband Mark enjoy what can only be described as a jet-set retirement.
One year, they spent five weeks in a renovated, 15th-century villa in Tuscany, Italy, eating meals under a vine-shaded arbor…and enjoying the estate's private swimming pool, which looked out over the light-dappled hills.
Mind you, Emma and Mark aren't rich or famous. They just travel like they are.
In truth, they're regular folks.
Mark was a consulting engineer who worked with oil and gas companies. Emma retired from the financial services industry. They own a modest, well-kept house with raised vegetable beds and flowers in the garden.
Neither has a pension coming to them. But they figured they'd retire eventually…they'd saved a little bit and were smart about spending.
Still, they never imagined their golden years could be so glamorous.
Yet it is a glamorous retirement they're enjoying.
In 2012, they found themselves in London during the summer Olympics, staying in a historic home right in the thick of things with pubs, bakeries, and shops nearby…and with a perfect, secret garden out back.
For the last few years, they've returned each winter to a luxury hilltop villa on the Caribbean island of St. Lucia for a few weeks at a time. It's a gorgeous home with a lush tropical garden and an infinity pool overlooking Marigot Bay…the sort of luxury place you might see in a James Bond film.
It's all possible because they've tapped a powerful retirement shortcut that hands them "rich man" perks…even though they aren't wealthy.
It's a shortcut you could easily tap to upgrade your life, too…no special qualifications required.
Retirement Shortcuts to Instantly Upgrade Your Life
In fact, it's just one of many retirement shortcuts available to you—if you know to seek them out.
These are shortcuts that can dramatically improve your quality of life…allow you to travel all over the world if you want to…enjoy perks like a housekeeper or a gardener…see you staying at swank resorts…maybe spending your winters in the tropical sun… and do all of it for less than it would cost you to stay home.
…retirement shortcuts that can open a whole world of opportunity to you…a world full of adventure and fun…new experiences and luxuries…
I'm talking about a world that you probably assume is out of your reach.
But, in fact, you'd be surprised at how easy (and affordable) it can be to embrace those "rich man" luxuries—even if your budget is decidedly modest.
Take this shortcut, for instance…
Spend Less Wintering in the Tropics
Than You Would Staying Home in the Cold
You might assume "snow birds" escaping the winter cold in places like Michigan or Maine or Canada have pretty deep pockets if they can afford an annual warm-weather escape January through March.
But that's not necessarily the case…
Take Gary and Mary, for instance. They'd had enough of frigid Wisconsin winters, so these days they head south to escape them every year—to an island in the sun where the beach is world-class, with talcum-white sand…
It's heavenly…yet they spend about one-third to one-half what they would if they stayed put in Wisconsin and braved the cold.
That's right. With this shortcut, it costs them less to winter over in the tropical sun than it would to stay home.
"We've been snowbirds since 2007. We love everything about it," says Gary. "In fact, I'm really not crazy about telling others how wonderful it is here. I don't want the island to become more crowded and lose its vibe."
"The weather is outstanding," he says. "The beach is one of the best in the world, and it's close to our apartment."
Now if you're like most folks, you probably assume a months-long tropical escape is, by definition, prohibitively expensive…a rich man's prerogative.
But it doesn't have to be. It all depends on where you go…
Karen and Greg, retired IT managers from Ontario, Canada, are solidly middle class…yet they, too, have used this same retirement shortcut to embrace an endless-summer lifestyle.
"The only ice we like is in our drinks," says Karen from a spot where the turquoise blue waters lap up on white sand beaches. They've traded in temperatures below zero and feet of snow on the ground for sunny days in the mid-80's.
"Over 100 days last winter it rained twice, for an hour each time," says Karen. "The weather is just phenomenal."
And that's not all that's extraordinary.
"The beach is one of the most beautiful we've seen. The blue. The warmth of the water. There are so many activities close by: charter fishing, snorkeling, diving. Just people-watching. And then there's the restaurants…we go out and eat every single day."
They're living well—really well—because this retirement shortcut just about doubles their disposable income . It allows them to "live large" all winter in the sun…on a decidedly middle-class budget.
You Could Turn Your Jet-Set
Vacation into Your Everyday Life
What if I told you that you could easily afford to turn a jet-set vacation into your everyday life…and live like the upper crust 3 months, 6 months, even 12 months a year…no huge nest egg required.
I'm talking about a shortcut you can use to transform your retirement…
A shortcut that can hand you the perks of a wealthy man's lifestyle…even if you're living on a Social Security check alone.
Fortune magazine has called this shortcut,
"a way to double your retirement dollar."2.
According to the Associated Press , it
"can help make even a modest retirement income stretch further."3.
Kiplinger's Personal Finance proclaimed it
"might be the perfect plan."4.
AARP calls it a
"smart choice for retirees who want it all."5.
It's true. With this shortcut, you could afford to do things like—
Have a housekeeper, a gardener, a personal chef, or even a private driver…so you free up plenty of time to do what you enjoy…
Eat out every day of the week if you want to and never feel guilty about it…and even have money left over at the end of the month…
Join the local country club to golf and socialize…and revel in the perks of an upscale retirement that only the wealthy can typically afford…
As with all these powerful shortcuts I've mentioned…this one comes down to finding—and taking advantage of—good value.
And you have to know where to look.
Just imagine if, in retirement…instead of paying $833 for your monthly health-insurance premium, it could be $130 …
What if you could trade in that $500 -a-month golf club membership for $100 country-club dues?
What if instead of paying a housekeeper $130 to clean for half a day once a month…you could have somebody reliable and friendly tidy and even cook for you once a week all month long for just $80 total?
Now those numbers may seem unbelievable—but let me assure you: They're not. Not if you know where to go.
And you'll find the answers in How to Retire on Permanent Vacation: Shortcuts for a Jet-Set Retirement on a Modest Budget.
You see, in the right places overseas, life is so affordable that you can enjoy the perks of a rich man's lifestyle on a journeyman's budget.
Safe, welcoming, beautiful, good-value places exist today from Latin America to Southeast Asia to Europe…
Now let me say: I realize that most people equate sophisticated Europe with "expensive" Europe. But here's the thing: When you know where to go, you'll be pleasantly surprised at how affordable living in the Old World really can be.
Places where the climate will suit you…where you'll find the activities and distractions you enjoy…
And where you can live better than you do today for half what it costs you to stay home.
"We Live in a 4,000-Square-Foot Castle"
Take Rob and Wendy . They live in, as Rob puts it, "a 4,000-square-foot castle." It has three bedrooms, three full baths, and a half bath. The gourmet kitchen is a show stopper. There are 24-foot sliding glass doors that open the whole back of the house to the deck outside where the swimming pool is and where you can soak in a dramatic lake view.
They're situated in a spot where it never snows and the air is comfortably spring-like year-round, which means they can enjoy the outdoors 12 months a year.
These guys are living large. As Rob says, "Maid, gardener, pool guy… I haven't done laundry in five years. We live high on the hog, and we live in Paradise—for $1,750 a month."
And they're not the only ones…
"We Have a Full-time Maid who Does all our
Chores and a Gardener Who Cares for the Yard"
Jack and Nancy have taken advantage of this same shortcut. As they put it:
"Our quality of life has greatly exceeded our expectations. We live in an upscale gated community and have a three-bedroom, three-bath house. We have a full-time maid who does all our chores and a gardener who cares for the yard…all for less than half the cost of a moderate lifestyle in Atlanta."
"I'm Enjoying a Freedom I Never Dreamed Possible"
Judith says much the same thing. She's not wealthy…she just lives like she is.
She's retired today, but when she was younger, she had a modest import-export business and worked as a consultant. She was in a car wreck in 1998, though, which left her on disability and in debt.
She'd figured she'd be living hand-to-mouth till the end of her days. But then she discovered this retirement shortcut…and everything changed.
Today she enjoys a genuinely lavish life with a private pool in her yard and a beautiful, well-tended garden. She has a staff of three part-time helpers—a gardener, a pool guy, and a housekeeper.
And she's enjoying all these perks on a budget of just $900 a month, total.
She says, "I'm retired, having a new beginning, and enjoying a freedom that I never dreamed possible… I can afford things that were not affordable in the past. I feel blessed every day…"
We'll show you how—and where—you, too, can trade up in retirement in How to Retire on Permanent Vacation: Shortcuts for a Jet-Set Retirement on a Modest Budget.
I'd like to give you a copy of this special report today—with my compliments.
All I ask in exchange is that you take a look at International Living, my organization's monthly magazine.
If what you've heard here appeals to you, then I know you'll enjoy—and value—the practical, in-depth coverage International Living delivers directly to your door every month.
It's chock full of secrets that show you how to travel better, and spend less…reduce your taxes…start your own international business…explore exotic, foreign lands…invest in booming overseas markets…pinpoint profitable real estate plays abroad…and more…
In International Living each month, we delve into the details you need to take action. We share our contacts. We lay out the pluses and minuses. And we keep you up-to-date on the latest developments with the best havens abroad.
And our readers share their own stories of—and advice from—their experiences overseas.
The World's Most Well-Respected Resource for Overseas Opportunities
When it comes to overseas intelligence like this, you won't find a more well-respected source than International Living.
Since 1979, we've had contributors stationed around the globe. It means we've got on-the-ground access to the real story—as it unfolds. And long perspective as well.
Agree to take a look at International Living today—and I'll send you How to Retire on Permanent Vacation: Shortcuts for a Jet-Set Retirement on a Modest Budget, as a bonus.
And it is yours to keep—no charge—even if you decide International Living isn't for you after all.
I feel confident, though, that you'll like what you see.
Because the secrets, tips, shortcuts, and solutions that appear in International Living show you a world full of extraordinary opportunities. Things you can do to make your life not only more comfortable and more fun…but more profitable, too…
In 1984, for instance, we told readers about an investment on the Samara Bay in Costa Rica. Back then, you could get in for between $2,000 and $4,000. Today, that investment would be worth close to $140,000.
In the 1990s, we pointed readers to this kind of play again in Belize … and watched as the values soared. A reader who bought on the tropical, palm-lined island of Ambergris for $29,950 back then could sell for $215,000 today.
And we're still showcasing opportunities like that…
Like a window of opportunity along a postcard-perfect stretch of Pacific coast we've told readers about…where lush, green virgin tropical forest tumbles down to white-sand beaches. The weather and topography here are ideal…and you can grab a lot for less than $40,000 or a condo that looks like it should cost $1 million—for just $195,000.
In International Living each month, we'll share with you money-making, money-saving, life-improving secrets like those…and more…
Recently, we told readers about—
How (and where) to spend spring in romantic Europe from $2,700 a month…including a spot in Italy that isn't remote, but isn't overrun with tourists either, where you can rent a furnished apartment in the old town for $560 a month…and a village half an hour outside of Lisbon, Portugal where you can rent from $900 a month…
A Thai island golfers will love…where for $960 a month you can secure a furnished, two-bedroom villa close to the beach in a gated community with a pool…and that includes maid service, too.
How to leverage your house back home when you go overseas and offset the cost of your travels.
A hillside city in Mexico tourists always overlook, which is jam packed with sophisticated museums, theaters, and galleries…cafe-filled plazas…glorious architecture…and apartments that rent from $600 a month…
Low-cost travel tips for getting to and around Latin America—including insider advice about first-class buses, remarkably affordable airlines you've never heard of before, private shuttles, and more…
A laid-back Costa Rican beach retreat where scarlet macaws soar overhead—just 90 minutes from the airport and close to the capital, it's an escape that feels a world away but is incredibly convenient. And you could live well here on $2,000 a month.
A university town in the south of France where medieval homes overlook the sparkling blue Mediterranean…and you could rent a lovely, furnished two-bedroom apartment with high ceilings and generous windows right in the thick of things for $1,400 a month or a one-bedroom for just $860.
Where in the Caribbean to own a condo a walk to the beach for $135,000, rent it out when you're not there to cover your costs, and then reserve a few weeks a year to go yourself so you can relax, recharge, surf, sail, and soak in the sun…
How to rent from $207 a month in Southeast Asia's cool-weather retreats…four highland escapes you've never heard of in Vietnam, Thailand, and the Philippines.
Five spots around the world where you don't have to sacrifice comforts to live off-the-grid…from Caribbean Mexico to medieval Portugal to highland Ecuador, and beyond…with homes that start at just $132,000.
And lots, lots more…
The Retirement You Always Dreamed of…
for the Price of a Pint of Beer
When you agree to take a look at International Living today, not only will you receive How to Retire on Permanent Vacation: Shortcuts for a Jet-Set Retirement on a Modest Budget as a bonus, but I'll ALSO shave nearly 30% off the regular price.
So instead of $69 per year for 12 monthly issues delivered to your doorstep, it's yours today for just $69 $49.
That's only $4.08 a month. Less than what you hand over for a pint of beer. Yet it could completely transform the way you experience your retirement.
Plus I'm adding a little something extra to sweeten the deal…
Special Report # 2

Escape to Europe: How to Beat the Tourist-

Visa Rules and Stay as Long as You Want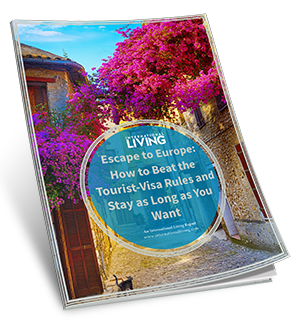 As I've said already: Europe can be a lot more affordable and accessible than you probably realize.
Take villages like Altea , the Jewel of Spain's Costa Blanca, where the scents of salt and sea mix with orange blossom…and rentals start at $450 a month…
Or consider bargain French towns in the mild Poitou-Charentes region where you could own a cottage with a garden, fireplace, and original terra cotta floors…for as little as $15,440…
You've got more good-value options in Europe than you think. And you can live there quite comfortably from $2,000 a month.
But there is the sticky issue of how to stay past the 90 days a tourist visa allows if you want to extend your visit to four, six, nine months or longer.
Fortunately, we've got you covered in Escape to Europe: How to Beat the Tourist-Visa Rules and Stay as Long as You Want.
Inside we'll share the shortcuts and strategies for turning a vacation excursion into a longer-term stay…including a savvy technique that'll allow you to work in Europe and gain indefinite residence.
And that's not all. If you act now, I'll send along something extra, too…
Fast-Reply Bonus
Affordable Getaways Around the World— 5 Easy Places Where a Month-Long Escape Can Be Yours from $1,500
Also Yours—as an EXTRA BONUS—When You Act Now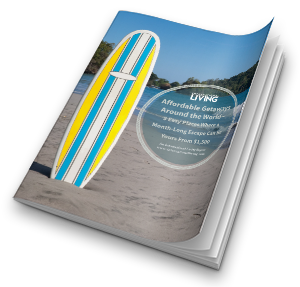 In Affordable Getaways Around the World—5 Easy Places Where a Month-Long Escape Can Be Yours from $1,500, my team of experts based around the world has hand-picked destinations where you can easily try out life abroad—on the cheap.
Take this idea for a test-drive (for a month…or three…or six…or more) and spend less than it would cost you to stay home: As little as $1,500 a month for a couple, all in.
From beach towns to idyllic lake-side retreats…from close-knit mountain communities to metropolises bustling with culture…we've got them all covered. In all five, you'll find affordable short-term rentals (as little as $500 a month). Each of these havens has an established expat presence. So not only will it be easy for you to meet and make friends, but you'll have no problem finding fellow English-speakers.
And no one wants to go somewhere cold…so that's why we've selected places with warm weather (think 60s F all the way up to the 90s F) throughout the year.
While folks back home are stuck indoors, you could be enjoying rounds of golf, taking your boat out on the lake, hiking through cloud forests, or strolling on the sparkling sands of a tropical beach.
You may be biding your time at home right now—but with this guide in hand, you'll have some good ideas about where to head once you're able to travel again.
In Affordable Getaways Around the World—5 Easy Places Where a Month-Long Escape Can Be Yours from $1,500 we'll show you where to go…
And this special guide is yours—when you agree to try International Living today.
Recommendations Worth Thousands…
Yours for Pennies on the Dollar
The opportunities we deliver in International Living could be worth thousands (or even tens of thousands) of dollars for you. Both in savings…and in potential gains…
They've proven their worth many times over for thousands upon thousands of readers in the nearly four decades we've been in business.
I'm talking about folks who took advantage of the great retirement shortcuts I've talked about here and so, today, are spending winters in the Caribbean…or enjoying a lavish European trip every year for pennies on the dollar…or have their nest eggs tucked away in a beachfront home or in a cosmopolitan escape in a burgeoning market…
These are people retired well—enjoying the comforts and perks of a wealthy man's retirement—on as little as a Social Security income alone…
With International Living as your guide, you can do it too. But to take advantage of this deal, you need to act now…
My Guarantee to You…
With this unusual introductory offer today, we're giving you all three special research reports as a bonus.
Plus we've also discounted our annual subscription.
It means we'll send you a total of $150 worth of intelligence, including 12 print issues of International Living, for just $69 $49.
Give it a try.
If—at any point—you decide the recommendations and solutions about living better for less overseas, making money, saving money, and traveling better aren't for you after all—no problem.
Let us know, and we'll immediately take your name off the subscriber list and send you a refund on all un-mailed issues. No questions, no fuss.
No matter what you decide, the Special Research Reports are yours to keep at no charge…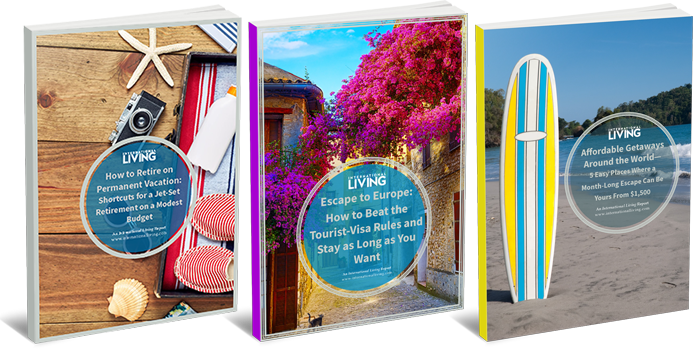 Special Report # 1: How to Retire on Permanent Vacation: Shortcuts for a Jet-Set Retirement on a Modest Budget (list price: $27), yours welcome BONUS…
Special Report # 2: Escape to Europe: How to Beat the Tourist-Visa Rules and Stay as Long as You Want (list price: $27), your welcome BONUS…
Fast-Reply Bonus: Affordable Getaways Around the World—5 Easy Places Where a Month-Long Escape Can Be Yours from $1,500 (list price: $27), your welcome BONUS…
AND…
We'll also give you a special Premium Edition of IL Postcards, too—each day you'll learn about the best ways and places to travel, retire, buy real estate, and enjoy life overseas. This complimentary e-mail service is for magazine subscribers only…
Plus, we'll include—at no charge—the password-protected digital edition of the magazine each month, too, so you can read it online or download it to your tablet, computer, or phone from anywhere in the world you might find yourself.
In addition, you'll have full subscriber-only, searchable access to our entire online archive—many thousands of useful, eye-opening articles about destinations the world over where you could live better for less, enjoy extraordinary travel experiences, invest ahead of the crowds, and retire in comfort, yours with no extra charge.
I do hope you'll give International Living a try today. This "Permanent Vacation" offer is excellent-value.
You don't have to be wealthy and famous to live a high-flying international life…to enjoy a retirement that's rich with experiences you've always wanted to have…to live in comfort and not worry about whether you'll outlive your nest egg…
You just need to know the shortcuts.
When you do, you can live like a king…and do it on a working-class budget.
If you're at all concerned about how you'll live out your "golden years," you owe it to yourself to give International Living a try. This is going to be on more and more people's minds once this pandemic passes. The economic fallout won't be insignificant. But just take a look at the great options you have overseas. I'm willing to bet you'll be surprised at what you discover.
All sorts of amazing shortcuts exist that can allow you to live a richer, fuller life…while you spend less.
Don't delay. Act now—click below to give International Living a try.
Sincerely,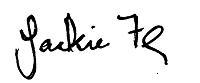 Jackie Flynn,
Publisher, International Living
P.S. I believe you'll be impressed by what you find in your three Special Research Reports and in International Living. Readers tell us the intelligence we share has changed their lives…
"I am a new subscriber to your magazine and wanted to express how pleased I am with your product. The quality of the magazine and the diversity of information that it provides, greatly exceeds my expectations. So often a purchase on line ends up being much less than what you had hoped. International Living is at the other end of the scale…so much more than you were expecting." – David W.
"If every company behaved and acted as professionally as International Living the world would be a far greater place. Thanks so much for always looking after us folks." – Linda and Peter P.
"Thank you for your excellent publications and straight shooting information. Thank you for opening my eyes to other parts of the world and opportunities I didn't know existed." – Kenneth M.
"I really enjoy the articles, the first hand accounts, the tips, everything… I look forward to using your magazine as a guide and exploring the globe." – Scott V.
"I am a fan of IL and talk up your fine, pinpoint accuracy, every chance I get." – John A.
"Thanks to all the valuable information, and the encouraging, actionable advice I read over the years in IL, you have made it possible for me 'to live the rest of my life as the best of my life!' And for that, you have my undying gratitude!" – Jo M.